Mark T. Reilly, D.V.M., Diplomate ABVP (Equine)
Mark T. Reilly, D.V.M, Diplomate ABVP (Equine) is originally from the South Shore area, having graduated from Abington High School. After attending the University of New Hampshire and earning a B.S. in Animal Science, he went on to Tufts University School of Veterinary Medicine. After graduating from Tufts in 1991, Dr. Reilly set off to work on the East coast horse racing circuit with Dr. Richard Kester. He spent time working in the New York/New Jersey area and winters in southern Florida. He then moved on to work at Delaware Park with racing thoroughbreds and racing arabian horses, before landing on Cape Cod where he ultimately established a large animal ambulatory practice in 1995. After watching the racetracks in Massachusetts close in 1997, he combined his equine practice with a small animal practice, forming Mid-Cape Animal Hospital. For the next 8 years, Dr. Reilly traveled to Nantucket, Martha's Vineyard, Cape Cod, and southeastern Massachusetts for farm calls throughout most of the year. Winters were spent in Florida working on young racehorses in training, as well as on horses competing at the Wellington Equestrian Festival. After a few years of searching for a location to establish an equine hospital, construction began in the spring of 2005 in Plympton. The full-service South Shore Equine Clinic & Diagnostic Center opened its doors in January 2006.
Dr. Reilly is certified as a Diplomate by the American Board of Veterinary Practitioners (ABVP) specializing in Equine Practice. ABVP Diplomate status is granted under the approval of the American Board of Veterinary Specialties, an official committee of the American Veterinary Medical Association. While other veterinary specialties focus on specific disciplines or organ systems (e.g. ophthalmology, cardiology, etc.), ABVP diplomates demonstrate excellence in all areas of specialty care of the total patient. Currently there less than 100 veterinarians that are certified Equine ABVP diplomates in the Unites States. Dr. Reilly is the only ABVP certified equine private practitioner in New England.
Dr. Reilly's has spent the past 20 years working on competitive horses of all disciplines. His professional interests are pre-purchase evaluations, lameness/poor performance issues (feet/shoeing, cardiac issues, joint injuries, airway endoscopy, IRAP, Stem Cell, PRP), reproduction (artificial insemination—fresh cooled and frozen semen, reproductive tract evaluations, and pregnancy/pre-natal issues), LASER surgery, respiratory disease, diagnostic imaging (x-rays, gastroscopy, ultrasonography, MRI), preventative health care, and internal medicine. He has been president of the Cape Cod Veterinary Medical Association, as well as chairman of the Massachusetts Veterinary Medical Association Large Animal Committee. In addition, Dr. Reilly served many years on the AAEP Membership Development Committee.
Dr. Reilly has presented numerous papers at many of the annual international conventions for equine practitioners (AAEP).  He has spoken on medical and surgical techniques, as well as business principles and associates in veterinary practice. For many year, Dr. Reilly was a lecturer at Tufts Cummings School of Veterinary Medicine in the anatomy department where he lectured on the hoof and lead live horse anatomy laboratories. At the South Shore Equine Clinic, he enjoys participating in the annual horse owner lecture series. When not spending time with his wife and two children, Dr. Reilly can be found on the beach or at any number of Boston sports venues cheering on his teams.
---
Linda J. Cimetti, D.V.M., C.V.A.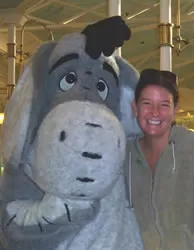 Linda J. Cimetti, DVM, C.V.A., is from the South Shore town of Scituate, MA. She graduated high school from Thayer Academy in Braintree and went onto earn a B.S in Biology at Worcester Polytechnic Institute (WPI). While at WPI she was an assistant investigator in her major qualifying research that developed bench top methods of measuring airway reactivity in cats using a non-invasive method of whole body plethysmography. This technology has since been adapted and applied for use in other species, including horses. After college and during her first 2 years in veterinary school, Dr. Cimetti worked as an intern at the Genetics Institute in the Bone, Biology and Applications group. Her focus was in preclinical orthopedic research, investigating bone morphogenetic protein-2 (BMP-2) and its role in osteoporosis and fracture healing. She also investigated the effects of nicotine and glucocorticoids on BMP-2 stimulated bone development. Dr. Cimetti graduated from Tufts University with a Doctorate in Veterinary Medicine (DVM) in 2001.
After graduation, Dr. Cimetti worked for a performance horse practice for four years focusing on preventative health, lameness and diagnostics, before joining Dr. Reilly in the spring of 2005. Between 2001 – 2011, Dr. Cimetti was a clinical instructor at Tufts Cummings School of Veterinary Medicine teaching Large Animal Gross Anatomy to first year veterinary students. She also participated in numerous hands-on training labs for first, third and fourth year veterinary students during this time.
In 2011 Dr. Cimetti completed her certification in Equine Acupuncture at the Chi Institute in Reddick, Florida. After 2 years of intensive study, she successfully incorporated eastern medicine into her veterinary practice. Following completion of her certification, in 2011, she took the first equine only veterinary spinal manipulation course at the Pasteur Equine Learning Institute in Ocala, Florida. Here she mastered equine spinal manipulation (chiropractic) therapy which complements the acupuncture therapy in managing her equine patients. She continued to teach the anatomy lectures and gross dissection laboratories for this veterinarian only course for the following 3 years. In 2014, she joined the Integrative Veterinary Medical Institute (IVMI) staff and continues to teach equine anatomy lectures and laboratories for their equine spinal manipulation therapy course.
In 2001 Dr. Cimetti became involved in Project Samana, an outreach program of the Massachusetts Veterinary Medical Association (MVMA) to provide medical and surgical services to the horse and mule population of Samana, Dominican Republic, the second poorest country in the Western Hemisphere. For 10 years she annually traveled to Samana and volunteered her time, knowledge and supplies. She has dewormed, castrated and tended to the needs of hundreds of animals as well as helped educate local veterinarians and horse owners as to the proper care and use of their animals. She also contributes to horses in need on a local level, working with horse rescues and the MSPCA on an as needed basis.
Dr. Cimetti has given numerous talks to local and national equine groups (including pony clubs, 4-H and discipline and breed-specific groups); as well as presented at American Association of Equine Practitioners (AAEP) Convention in Denver on managing lower limb infections using a regional limb antibiotic perfusion technique. She has had advanced training in dentistry, ophthalmology, lameness diagnostics (Ultrasonography, Magnetic Resonance Imaging (MRI) and Nuclear Scintigraphy), equine acupuncture and spinal manipulation. She has developed and oversees the MRI service at South Shore Equine Clinic, utilizing one of only 21 standing units in the country.
Her professional interests include lameness diagnosis, diagnostic imaging (Ultrasound, MRI), acupuncture therapy, spinal manipulation, podiatry, ophthalmology, and dentistry. In her free time she enjoys running, skiing, reading, going to the beach, gardening and spending time with her family and dogs.
---
Caitlin E. Owen, MVB&S, MRCVS
Dr. Caitlin Owen grew up riding ponies through the woods in her hometown of Groton, Massachusetts. She considers West Barnstable a second home though as she spent much of her childhood visiting family there. As a kid she vaulted, rode dressage, was in 4-H, worked in a dressage barn and went on fun adventures with her ponies. After rehabilitating her Thoroughbred mare from a long illness with EPM, Caitlin first consciously considered becoming a veterinarian. Fifteen years later and she still has that (now thirty-one year old) mare! On her road to becoming a vet Caitlin attended the University of Massachusetts, Amherst, where she obtained a bachelors degree in animal science. While at UMass, she studied abroad in the west of Ireland where she rode lots of cool horses and fell in love with the country. When it came time to choose a veterinary school, Europe was calling. Caitlin completed her veterinary degree at the Royal (Dick) School of Veterinary Studies in beautiful Edinburgh, Scotland. As a vet student Caitlin got to travel and learn from equine clinicians all over the USA, the UK, Ireland and Denmark. South Shore Equine Clinic was one of the places she visited an extern and that experience clearly left a good impression! After graduation she was again drawn across the Atlantic to Ireland, where this time she completed an equine hospital internship in the heart of Thoroughbred racing country.

Caitlin E. Owen Caitlin is excited to be working back home in Massachusetts now at South Shore Equine Clinic. She is looking forward to getting more involved with ambulatory work and getting to know the horses and people of the south shore! Caitlin's primary veterinary interests include foals, imaging, colic, and generally keeping horses happy and healthy! Outside of work she likes to traveling and spending time with her horses, family and friends. She's extra excited to live so close to the ocean and hopes to find a little time this summer to get a spot of surfing in!
---
Margaux W. Buchanan, D.V.M.
Dr. Margaux Buchanan is originally from Fairfield, CT and comes from a equestrian family heritage; many members of her family are involved in equine sport, and her mother grew up on a working farm in Indiana. She started riding at a young age and has never forgotten the exhilaration of the first time she cantered a horse on her own. After graduating from Smith College in Northampton MA in 2007, Dr. Buchanan rode Connemara ponies across county Claire, Ireland before attending veterinary school at The Ohio State University in Columbus, Ohio. During her veterinary schooling, Dr. Buchanan worked as an overnight extern at the university, and did several off site externships in California. This honed her passion for the equine patient and critical care.
After graduating in 2011, Dr. Buchanan hiked the Inca trail to Machu Picchu and then completed an internship at East Coast Equine in Vero Beach FL. During her internship Dr. Buchanan fine tuned her anesthesia skills and fell in love with general sport horse practice. Dr. Buchanan then relocated to Modesto, California and spent three years practicing with a focus on preventative medicine, dentistry, lameness, and diagnostics.
Dr. Buchanan has a passion for education and community involvement. While in California, Margaux worked with Oakdale Equine Rescue and National Equine Resource Network to provide low cost gelding and vaccination clinics to the surrounding low-income community. Seeing the benefit this provided to the public, Dr. Buchanan helped set up semi-annual clinics to continue to give back to the community. She has continued this passion by providing equine healthcare topic talks at local barns in the South Shore area. Dr. Buchanan would be more than happy to discuss the horse health topic of your choice for your barn; call the clinic any day to schedule an equine lecture!
Dr. Buchanan's current professional interests include dentistry, sport horse medicine, integrative complementary medicine, anesthesia and geriatric care. When not working on a horse or riding one, Dr. Buchanan enjoys surfing, skiing, scuba diving, spending time with her pets and traveling to exotic locales. While Dr. Buchanan has a passion for all equine disciplines, Margaux is currently playing polo, and can be seen playing or spectating at Newport Polo most Saturday evenings from June 1 to Oct 1.
---
Crystal Wee, BVMS (Hons) BSc (Hons) MRCVS
Dr Crystal Wee comes from sunny Singapore, where she grew up surrounded by dogs, cats, rabbits, hamsters, chickens, parrots and fish. She also started riding for leisure. Having been surrounded by so many lovely pets, her passion for animals grew and motivated her through veterinary school. She attended the University of Glasgow's veterinary school, where she fell in love with surgery and emergency medicine. During university, Dr Wee completed several externships in specialist equine practices, including Dubai Equine Hospital, Hong Kong Jockey Club, Rossdales Veterinary Surgeons and Randwick Equine Centre.
Following graduation, Dr Wee embarked on a rotating internship with Randwick Equine Centre in Sydney, Australia. Through the internship, she gained valuable experience and knowledge of treating hospitalised and intensive care patients, pre- and post-operative care, routine and sales radiography, and lameness evaluation. Dr Crystal has a particular interest in racehorse practice, diagnostic imaging, emergency medicine and surgery. She enjoys participating in continuing education activities and hopes to pursue a surgical residency one day. In her spare time, she enjoys watching the races, going on long hikes and scaling peaks and travelling to new destinations. She is looking forward to working with the team at South Shore Equine Clinic focusing on emergency and ambulatory practice.
---
2018-2019 Interns
Dr. Amber Nebel
Dr. Amber Nebel, DVM, is originally from Watertown, NY but spent most of her childhood and adult life living in Charlotte, North Carolina. Dr. Nebel fell in love with horses at the age of six, after visiting "Old McDonald's Farm" near her hometown and rode a horse named Marshmallow for the first time. This love and interest in horses further progressed in North Carolina where she joined a local equestrian vaulting team for six years competing on the regional level. Amber also volunteered at an Arabian breeding farm for the next 5 years into college. While volunteering at the Arabian breeding farm, Dr. Nebel decided she would pursue equine veterinary medicine after experiencing her first foaling. Dr. Nebel was part of the first graduating class at her local high school and was heavily involved in the FFA organization, eventually becoming the President of her high school chapter during her Junior year.
Dr. Nebel attended North Carolina State University for undergraduate and veterinary school. She graduated with a Bachelor's in Animal Science and a concentration in Veterinary Bioscience, as well as her Doctorate in Veterinary Medicine. During veterinary school, Dr. Nebel was involved in multiple organizations regarding equine and reproductive medicine and participated in a summer research program looking at ways to early diagnose equine placentitis.
After graduating from veterinary school, Dr. Amber decided to accept an internship position with South Shore Equine Clinic and experience Northeast winters again. She has enjoyed her time in New England and is excited to expand her interests in reproductive medicine, foal/neonatal care, and preventative medicine.
---
Dr Derin Macchia

Derin Macchia, DVM, grew up on Long Island, New York where an early passion for horses started. At 8-years-old she began riding at a horseback riding day camp on Long Island and immediately became hooked. She soon began riding hunter jumpers and would ride every horse in the barn on the weekends, especially loving the difficult ones that none of the other students would want to ride. She also loved going on trail rides and doing hunter paces.
Dr. Derin attended Cornell University with an animal science major. She was the fundraising chair of the Pre-Vet Society club. She also volunteered to help the Vet School with foal watch, spending many nights in the barn waiting for a foal to be born. Her friends all thought she was crazy, spending night after night in the barn in the freezing Ithaca winter weather, but it was definitely worth it. She was also a part of the SPCA club and helped take care of all of the shelter dogs and cats. During college, Derin also discovered her love of travel. She studied abroad in Sweden for 6 months and got to travel all across Europe. She loved travel so much that she decided to go to vet school in St. Kitts at Ross University. She worked with sea turtles and became scuba certified. She also got to work with the wild donkeys. She did her clinical year at North Carolina State University, with a focus on Equine Medicine. She is excited to join South Shore Equine Clinic as an intern.
In her free time, she enjoys spending time with her thoroughbred mare, Emma and her hound dog, Porter.